Meet Dr. Nick Goin
Discovering Wellness in My Own Life
While pursuing his undergraduate degree in Business Management from The University of Michigan – Dearborn, Dr. Nick suffered from chronic allergies, eczema, and back pain in which medication and prescription drugs failed to get him well. After years of no medical cure, it was then from principled chiropractic care that healing came. This radical healing experience transformed his life and led him to pursue chiropractic care as a way of life and as a career.
Learning with the Best
Dr. Nick went to Davenport, Iowa where he knew he could excel in his study of chiropractic care and natural healing. Learning all that he could, he graduated with Magna Cum Laude honors from Palmer College of Chiropractic. He also had the honor and privilege of interning and working for one of the countries top pediatric and family chiropractors, Dr. Tony Ebel.
Dr. Nick now specializes in pediatrics, pregnancy and family care. He also has a special focuses on autism, sensory processing disorders, ADHD and other neuro-developmental disorders.
Credentials
University of Michigan – Dearborn, Bachelor of Business Administration Management
Palmer College of Chiropractic, Magna Cum Laude, Doctorate of Chiropractic
 PX DOCS – Pediatric Chiropractor
Certified Advanced Proficiency in Torque Release Technique
Mally Extremity Certified
Webster Certified Chiropractor by the ICPA
Academy Council on Chiropractic Pediatrics, CACCP
Member of the ICPA (The International Chiropractic Pediatric Assosication)
Helping You Heal From Within
Dr. Nick's goal is to help people reach their God-given health potential through chiropractic care. "I'm constantly amazed how the body works and the testimonies that we witness every day. It's incredible observing true healing within the body."
Dr. Nick currently lives in Marblehead with his lovely wife Ashley, son Emerson, and pup Bella. Ashley works behind the scenes as the business manager of the practice, running all the necessary daily activities to make Innate Health Chiropractic successful. Ashley has experienced healing and a balanced life through chiropractic care as well. "Overall, chiropractic has had a great impact on our lives, not just physically but also emotionally."
EXPLORE CHIROPRACTIC »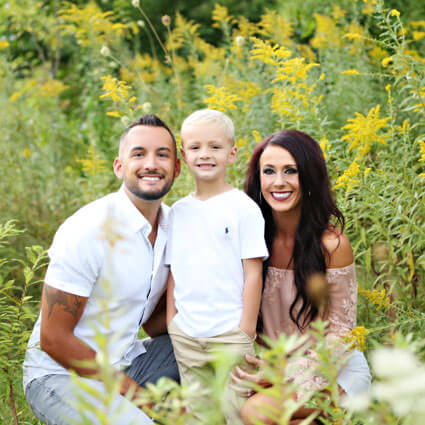 Living Out The 4 Pillars of Health…
Everything Dr. Nick and Ashley do falls under the Four Pillars of Health – Faith, Function, Fitness and Food. "We love spending time in the community and with our church, working out, cooking together in the kitchen and spending time outside in nature."
Dr. Nick, Ashley and Emerson feel blessed to be able to be serving in their hometown Perrysburg community.
At Innate Health Chiropractic we've seen hundreds of lives transformed. Dr. Nick and Ashley are excited to help people heal and live a better tomorrow through chiropractic care! Contact us today to get started!
---
Absolutely love coming to Innate with my daughter! The staff are always so kind and welcoming at the front desk and create a wonderful environment. I'm so very happy with the care we are receiving from Dr. Nick. Will recommend the practice to all my friends and family.
Matthewson Family
---
Dr. Nick Goin | (419) 872-2255