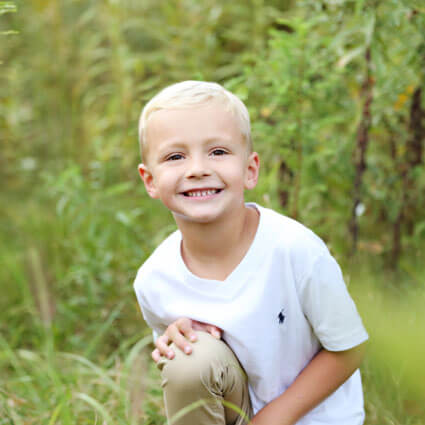 Innate Health Chiropractic Reviews – Pediatric
What Our Perrysburg Patients Say
At Innate Health Chiropractic we love when patients share with us their feedback and comments after chiropractic care. Please read our patient testimonials below to see what other people have achieved through their tailored treatment plans with us.
Share your stories too! Click here to send us your feedback so that we can help to spread the word about the benefits of natural Innate Health Chiropractic care.
For more information, or to schedule an appointment contact us today.
---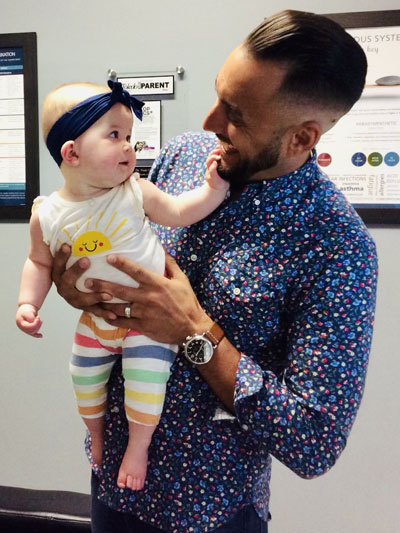 When I first brought my daughter to Innate, she was not sleeping at all at night. She was up every hour and fussy and did not nap during the day but for 10 minute intervals. She also was having a hard time doing tummy time. She would not pick up her head, she would just scream. It was a struggle to get through the day with her tired and mama was tired.
Since beginning pediatric chiropractic care at Innate, she is like a different baby! She sleeps most of the night and if she wakes up it's to eat and then right back to bed. She also naps for over an hour at a time during the day! Huge improvement with tummy time, she actually prefers to be on her stomach now and can stretch her neck real high (she could never do this before.) She is a real calm baby now as well.
Everyone at Innate is so welcoming when you walk in! They greet you by your name and you feel like you have been coming here for years, even on your first day! You never feel rushed and Dr. Nick is amazing at explaining things to you so you understand!
-K.B.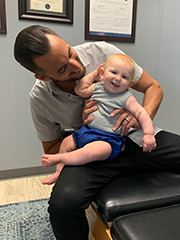 We came to Innate Health Chiropractic because our son would not sleep on his back, had disrupted sleep, difficulty breastfeeding, projectile vomiting and other signs of reflux. He seemed to be generally uncomfortable most of the time and it was wearing on the whole family! He was gaining weight but was obviously uncomfortable.
Our son was also diagnosed with lip, tongue, and buccal ties. We had weeks of chiropractic care before getting the ties released, which the pediatric dentist and lactation specialist said was the best course of action. The chiropractic care before and continuing after released tension and allowed the tongue tie procedure to be more successful. We started to see improvement before the procedure. Better sleep, reduced crying, a happier baby, and a MUCH easier time breastfeeding. He is a different baby! I'm so glad we pursued care at Innate instead of just hoping he would grow out of it!
The Innate staff and docs are warm, welcoming and accommodating – they are wonderful! Lots of attention to detail on part of all staff. I feel the doctors have a lot of skill in what they do and I feel we are receiving great chiropractic care; the results speak for themselves.
-Mary (Mom)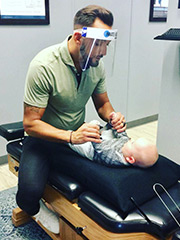 The symptoms my son was experiencing were that he was spitting up throughout the day, having trouble nursing, and one side of his body seemed stiff. He was diagnosed with a tongue tie and we came to Innate Health Chiropractic for follow-up care after his surgery. My son was spitting up so much that we were constantly changing his clothes and our clothes. It seemed like there were never enough bibs or burp cloths. He didn't nap for long either because he was constantly spitting up, waking himself up.
Since coming to Innate Health Chiropractic, my son now only spits up about once a day and has begun taking longer naps!! He is nursing like a champ and is beginning to roll over on both sides! I do not have enough wonderful things to say about the entire staff at Innate Health Chiropractic. Dr. Nick takes the time to listen to our concerns and truly wants to help. He is very knowledgeable and we trust him with the care of our child!
-Shauna (Mom)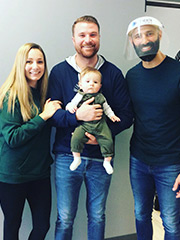 We came to Innate Health Chiropractic because our son had Torticollis and a flat head. We wanted to avoid a helmet and wanted to see him make his milestones on time! Our son wasn't enjoying tummy time and looked uncomfortable a lot.
After being under pediatric chiropractic care, our son now sleeps 12 hours straight, enjoys tummy time and his flat spot has gotten so much better!! We love the team – we always feel so taken care of and enjoy our time every day we come in. The office is so welcoming and family-friendly!
-Samantha (mom)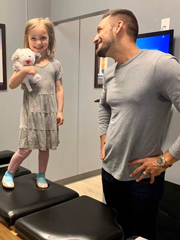 My daughter would easily get upset over little things. She has E.O.E., Gerd and Chiari Malformation. She is five years old and had never slept through the night. She just did not seem to be at the same age level as her friends at her age.
Since beginning care at Innate Health Chiropractic my daughter is a different child, in a great way!! It's like I have my happy daughter back. She is happy again, is sleeping throughout the night now and is not having anxiety as bad!
Truly, I was at my breaking point with the things going on with my daughter. Innate Health Chiropractic listened to me and was able to help her. She is happy again, she is smiling more, and I cannot thank Innate Health Chiropractic enough!
-Michelle (Mom)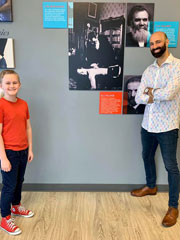 We started coming to Innate Health Chiropractic due to my son having severe headaches along with neck and back pain. His headaches would range from minor to debilitating. His neck and back pain would interrupt his sleep and interfere with school. He was also struggling with major anxiety and sensory processing issues. These issues affected everything. Physically and mentally, everything was limited. Physically he had a difficult time participating in activities. Mentally, he was anxious constantly.
Since being under chiropractic care at Innate Health Chiropractic, my son's headaches have been reduced significantly. His neck and back pain is now better. We knew it would take a few months to see major improvements, but in the past month we've gone from almost daily headaches to one! Everything about this experience has been amazing! The staff is caring and welcoming; always going above and beyond. Dr. Nick and Dr. Rick are patient and thorough. They ask my son direct questions and listen to his concerns. We've loved everything about our experience.
-Molly (Mom)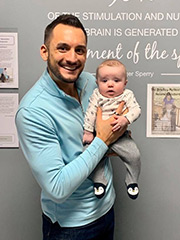 We came to Innate Health Chiropractic because my son was tongue and lip tied. He got them both cut at around 4 weeks old, but was still having quite a few issues with eating. He was using his jaw to eat which was causing him to get a lot of air in his stomach. It was tiring him very fast and he was having a hard time finishing bottles. Because he would get so much air in his stomach, he had horrible reflux and silent reflux for hours after eating. He also had a hard time turning his neck both ways and favored his left side.
It made it impossible to breastfeed and I tried just pumping, but working around 3 other kids' schedules made it very difficult. We had tried 6 different brands of bottles to see if it would help him. He was going through so many outfits from spitting up and leaking so much out the sides of his mouth.
Read More of Stephanie's Story
After being under chiropractic care at Innate Health Chiropractic, my son seems happier. He's not having the reflux like he was. He can comfortably sleep flat on his back now without much discomfort. He can wear an outfit all day without spitting up or leaking half his bottle all over himself. His neck has improved significantly and he can turn both ways and doesn't just sleep with his head looking left. This has improved tummy time and he's overall stronger. We can do the other children's activities without so many issues from him, he goes with the flow and is just a happy baby!
There are a lot of people that have impacted us at Innate Health Chiropractic. The staff is always so welcoming. They treat everyone like they matter. My other children enjoy to come and talk Dr. Nick and Dr. Rick's ears off. They are both great with children. I will forever be grateful for everything they have done to help my son and continue to do.
-Stephanie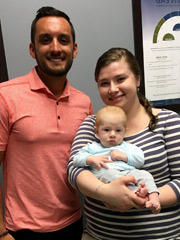 Since beginning care under Dr. Nick, our son does not arch his back or turn his head to the left right away when I lay him down to change him anymore. He now looks up instead of to the left when laid down. He also sleeps better on his back now. Our son is much happier in his car seat and does not cry and scream nearly as often as he used to. I'm sure this is because his neck is not causing him pain and discomfort anymore – he seems much happier in general!
Grace, Jessie, and Dr. Nick have all been excellent! They are very friendly and helpful. I love that you have a room to nurse and change my son. I have never been to an office that has this luxury and it has been wonderful! We are so happy with the care that we have gotten!
-Kara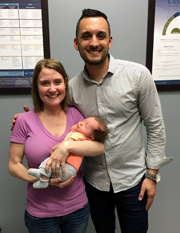 We brought our son in to see Dr. Nick at a little over a week old for wellness. He was born via c-section and we wanted him to get adjusted. He was having a hard time nursing, especially on one side. He latched on fine, but didn't want to nurse. One day, I only nursed him twice. He seemed hungry, but just didn't want to nurse.
After his first adjustment, he nursed great on both sides! Immediately he was more comfortable. In the next week, he gained 13 oz and began to nurse every two hours. He just seems so much more comfortable now.
-Lorin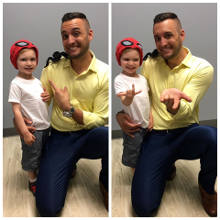 Our son began having ear infections at 8 months old, and continued to have them for 2 1/2 years. We were unsure as to what caused them, but we tried many things to help. Antibiotics and Ibuprofen were only a temporary fix and his ear infections would return. He then had ear tubes put in, which decreased the frequency, but we still had some during this time. It was emotionally draining not only for our son, but also for us as parents! It was so hard to have him be so sick – putting him in the bath when his temperature was so high and seeing him in such pain. He had been extra whinny in the past 6 months, before starting chiropractic care.
A friend recommended Innate Health Chiropractic to us, and since starting care we have experienced wonderful results! Our son has had NO ear infections so far since starting chiropractic care! Our biggest change that we have seen is that he is not waking up whining from his naps. He is playing more, playing independently, and is not as clingy.
At first, we were skeptical that chiropractic care would help – but now we are convinced that it is working! Grace, Jessie, and Dr. Nick all have beautiful, unique, and humble personalities. God's love is ever present at your office! Everyone can see the hands and feet of Christ at work there – keep up the amazing work you all do! Thank you for everything.
-Tiffany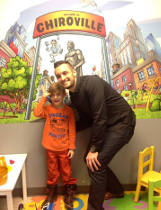 Our son has always had various behavior and sensory issues that have been worse when in school, and previously a daycare setting. Even when he really truly wanted to follow the expected behavior, he physically couldn't. He was to the point of destroying his kindergarten classroom, running all over, throwing things, spitting, and physically attacking his teacher. This was causing him a lot of problems at school and with his friends. He was about to be kicked out of school as a kindergartner! He had also been a trouble maker when playing on sports teams because he couldn't listen and follow directions.
We have tried Occupational Therapy for sensory integration, as well as diet changes. The Occupational Therapy was helpful, but with limited short term results, and the diet changes were helpful but not enough. We have also tried Cranial Sacral Therapy with positive, but limited results.
We came to Innate Health Chiropractic after hearing about them through a local moms Facebook group. Since starting care under Dr. Nick, our results have been amazing and life changing. Our son went from being extremely disruptive in the classroom and not getting much work done, to completing all of his areas and having bursts of learning in math and reading! His energy can still accelerate to levels that need brought down, but now with a reminder he can put the brakes on himself!
The staff at Innate Health Chiropractic are very professional and personal. It is nice that the staff all know you by name and are so friendly. Our results have been wonderful and it was amazing that our son had huge improvements after just his first few adjustments. We finally have help for the problems we have been dealing with for 5 years. That relief has brought me to tears whenever I think about how he is finally getting help!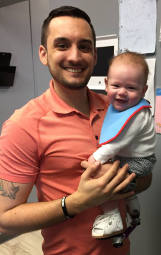 Our son was born with clubbed feet and had to be in casts from 5 days old. He also had a lot of digestive/stomach issues pretty early on. We tried 4 or 5 different formulas to try and help with his belly issues but nothing really helped. He never had a bowel movement without screaming through it. He was just a fussy/gassy baby in general and cried a lot! He just did not seem to be happy unless he was being held and I knew that I could not start that habit. He hated to sleep on his back, so for the first month we held him while he slept or we put him in his swing because he did like that. We later discovered he slept so well on his belly that we just opted to have him sleep like that even though it is preached to not belly sleep.
We needed our sanity also, so if this is how he slept best then we just let him. He was diagnosed with silent reflux around 2 months and we did see some improvement with the meds, but not too much. I was also concerned that maybe the heavy casts he wore on his legs were making it hard for him to go to the bathroom. Most babies can bring their legs up with a belly ache but he could not do that very well.
We tried the gripe water and gas drops along with the Zantac for his reflux in hopes that it would ease his belly aches, but nothing really helped. Gripe water did calm him a bit but that also stopped working after a while. I had to return to work after 8 weeks and I was nervous about leaving him with our babysitter because I knew he cried/fussed a lot and I could not
expect her to give him 100% attention with other kids she also watches. We had our parents watch him more for that reason.
I found out about Innate Health Chiropractic through Facebook. I was reading a testimonial from a mom and her daughter's symptoms sounded just like our sons. I ended up calling the next morning! We started seeing Dr. Nick when Nicholas was about 2.5 months and within a week of his first adjustment we were seeing great results! He was happier, sleeping anywhere from 8-12 hours at night, and having normal bowel movements without screaming. We have also been able to wean him off his reflux meds! He loves getting his adjustments also, he will laugh and smile at Dr. Nick the whole time! We are so pleased with his results and my husband and I can actually get sleep. We cannot say enough great things about this office! Everyone is so helpful and super nice. Grace, Jessie, and Dr. Nick have been so helpful with every question we have had. I would recommend Dr. Nick and his staff to anyone in a heartbeat! Thanks for everything you have done to make our little guy happy again!
-Sara
---
Innate Health Chiropractic Pediatric Reviews | (419) 872-2255