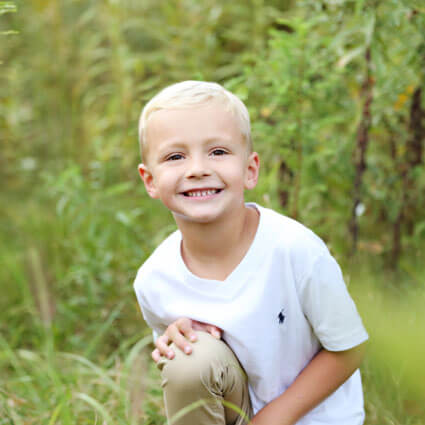 Innate Health Chiropractic Reviews – Pediatric
What Our Perrysburg Patients Say
At Innate Health Chiropractic we love when patients share with us their feedback and comments after chiropractic care. Please read our patient testimonials below to see what other people have achieved through their tailored treatment plans with us.
Share your stories too! Click here to send us your feedback so that we can help to spread the word about the benefits of natural Innate Health Chiropractic care.
For more information, or to schedule an appointment contact us today.
---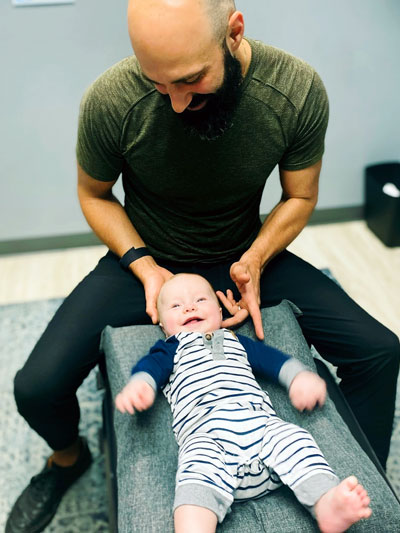 We came to Innate because my son was very gassy, colicky, and was always arching his back. I was always irritated and agitated because I could never put him down without him crying. Getting him to bed was also a nightmare. It was also hard to go out anywhere in public because of this. I could not get him to stop crying or ever put him down until my family suggested I take him to a chiropractor, and that is where Dr. Rick came in!
Since starting pediatric chiropractic care at Innate he has been so much easier! He is less gassy and is a lot easier to handle.
We love everything about it here. The doctors, staff and really love the play area for my toddler to play during appointments. Everyone is so welcoming and friendly.
-Mom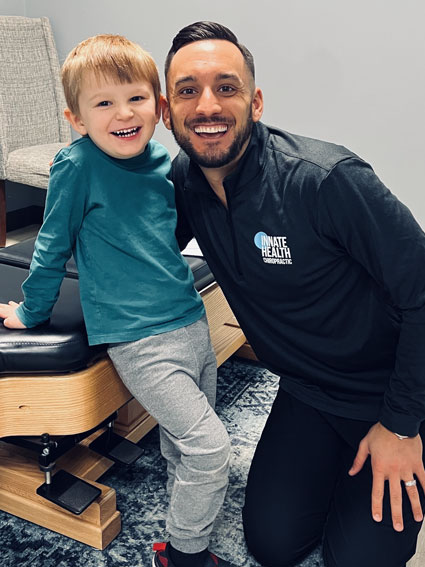 In summer 2021 our 2.5 year old son started biting his dad and I, all day every day, whenever we got close to him. We had bruises up and down our arms. He also became very aggressive with his baby brother, to the point that we were afraid to take our eyes off them for a second. We worked with early intervention, our pediatrician, and the folks at Innate who all concluded he had sensory processing disorder and his behaviors were a form of sensory seeking.
The stress at home was draining for everyone. We were afraid the baby would get seriously hurt and the biting was painful, needless to say. It was depressing and frustrating to not be able to seem to help our son.
Pediatric chiropractic care for our son has been a missing puzzle piece in his treatment. It fits so well with his early intervention therapy; both his pediatrician and therapist were on board with chiropractic. He gets the "good" sensory input he needs and it has, overtime, reduced his negative sensory seeking behaviors. He sleeps better at night. Our family life is much more peaceful. Our son LOVES Dr. Nick and he loves his adjustments!
Everyone at Innate is so warm, non-judgmental and insightful. I have learned a lot about our sons diagnosis and the doctors have given me lots of great advice about therapies to try at home, nutrition, sleep, etc. Margie was especially reassuring that we could get on top of the negative behavior without medication or sign into a stupor! And she was right. Care at Innate has been an integral part of our son's treatment and seeing so much progress.
– Molly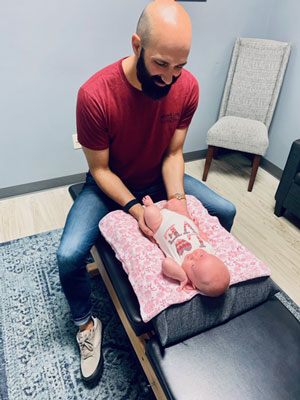 My newborn daughter was very fussy, always arching her back like she was in pain, and barely sleeping for longer than 20 minutes at a time. She is my fifth daughter, so the first few weeks of her life were very stressful, as I couldn't tend to my other children because of my newborn needing so much of my attention to keep her comfortable.
We have had amazing results with Dr. Rick. My daughter is like a whole new baby! She's a lot happier and doesn't act like she's in pain anymore. She's also sleeping for longer time frames.
I've felt very welcome coming to Innate. Everyone is so nice and happy every time I come. I also really love that the office is a family office, knowing that I am able to bring all five kids with me if I need to.
-Mom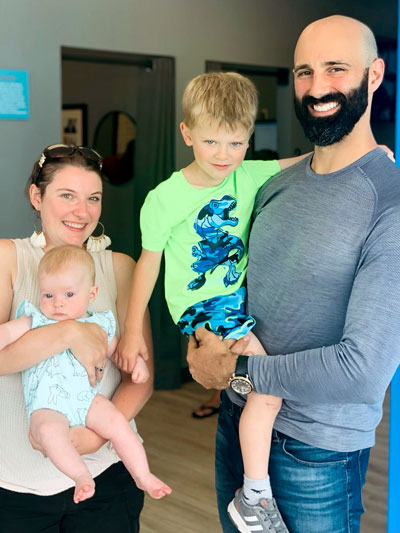 My six week old daughter was having gas pain and trouble sleeping, she was not happy unless she was sleeping in my arms. My three year old son was struggling with speech difficulty and sensory processing issues, he was struggling with communicating.
Since being under pediatric chiropractic care at Innate, my daughter has started sleeping better with less gas pain. She also has more frequent happy alert times. My son's stuttering completely went away! He also is not affected by sensory stimuli as much as he used to be.
The doctors are super friendly and the office environment is awesome, we love the nursing room! It's super helpful with our long drive from Fremont.
-Mom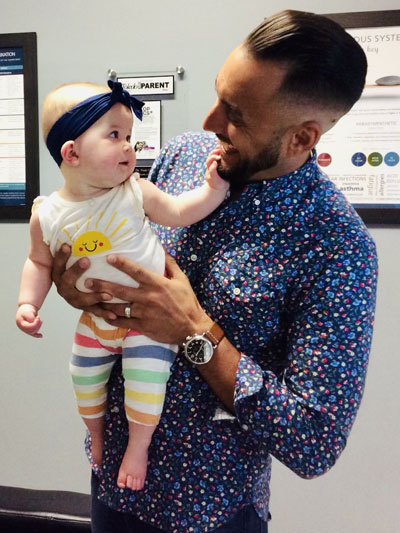 When I first brought my daughter to Innate, she was not sleeping at all at night. She was up every hour and fussy and did not nap during the day but for 10 minute intervals. She also was having a hard time doing tummy time. She would not pick up her head, she would just scream. It was a struggle to get through the day with her tired and mama was tired.
Since beginning pediatric chiropractic care at Innate, she is like a different baby! She sleeps most of the night and if she wakes up it's to eat and then right back to bed. She also naps for over an hour at a time during the day! Huge improvement with tummy time, she actually prefers to be on her stomach now and can stretch her neck real high (she could never do this before.) She is a real calm baby now as well.
Everyone at Innate is so welcoming when you walk in! They greet you by your name and you feel like you have been coming here for years, even on your first day! You never feel rushed and Dr. Nick is amazing at explaining things to you so you understand!
-K.B.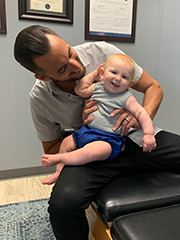 We came to Innate Health Chiropractic because our son would not sleep on his back, had disrupted sleep, difficulty breastfeeding, projectile vomiting and other signs of reflux. He seemed to be generally uncomfortable most of the time and it was wearing on the whole family! He was gaining weight but was obviously uncomfortable.
Our son was also diagnosed with lip, tongue, and buccal ties. We had weeks of chiropractic care before getting the ties released, which the pediatric dentist and lactation specialist said was the best course of action. The chiropractic care before and continuing after released tension and allowed the tongue tie procedure to be more successful. We started to see improvement before the procedure. Better sleep, reduced crying, a happier baby, and a MUCH easier time breastfeeding. He is a different baby! I'm so glad we pursued care at Innate instead of just hoping he would grow out of it!
The Innate staff and docs are warm, welcoming and accommodating – they are wonderful! Lots of attention to detail on part of all staff. I feel the doctors have a lot of skill in what they do and I feel we are receiving great chiropractic care; the results speak for themselves.
-Mary (Mom)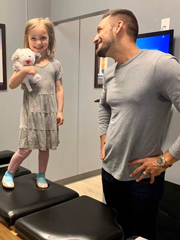 My daughter would easily get upset over little things. She has E.O.E., Gerd and Chiari Malformation. She is five years old and had never slept through the night. She just did not seem to be at the same age level as her friends at her age.
Since beginning care at Innate Health Chiropractic my daughter is a different child, in a great way!! It's like I have my happy daughter back. She is happy again, is sleeping throughout the night now and is not having anxiety as bad!
Truly, I was at my breaking point with the things going on with my daughter. Innate Health Chiropractic listened to me and was able to help her. She is happy again, she is smiling more, and I cannot thank Innate Health Chiropractic enough!
-Michelle (Mom)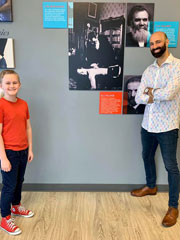 We started coming to Innate Health Chiropractic due to my son having severe headaches along with neck and back pain. His headaches would range from minor to debilitating. His neck and back pain would interrupt his sleep and interfere with school. He was also struggling with major anxiety and sensory processing issues. These issues affected everything. Physically and mentally, everything was limited. Physically he had a difficult time participating in activities. Mentally, he was anxious constantly.
Since being under chiropractic care at Innate Health Chiropractic, my son's headaches have been reduced significantly. His neck and back pain is now better. We knew it would take a few months to see major improvements, but in the past month we've gone from almost daily headaches to one! Everything about this experience has been amazing! The staff is caring and welcoming; always going above and beyond. Dr. Nick and Dr. Rick are patient and thorough. They ask my son direct questions and listen to his concerns. We've loved everything about our experience.
-Molly (Mom)
---
Innate Health Chiropractic Pediatric Reviews | (419) 872-2255