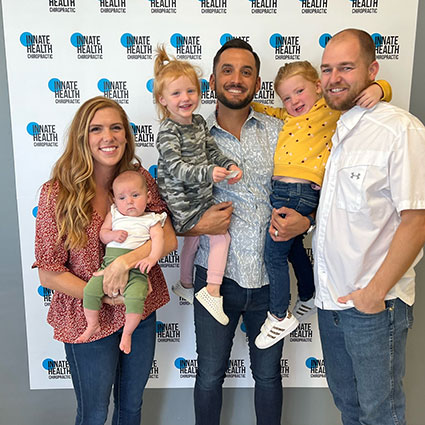 Innate Health Chiropractic Reviews – Adults
What Our Perrysburg Patients Say
At Innate Health Chiropractic we love when patients share with us their feedback and comments after chiropractic care. Please read our patient testimonials below to see what other people have achieved through their tailored treatment plans with us.
Share your stories too! Click here to send us your feedback so that we can help to spread the word about the benefits of natural Innate Health Chiropractic care.
For more information, or to schedule an appointment contact us today.
---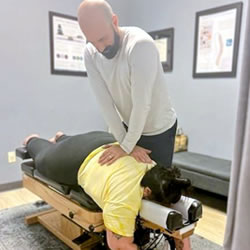 I was dealing with a lot of pain in my neck, shoulder, forearms and hands. I was also dealing with numbness and tingling in both hands and forearms as well. I also had sciatic pain. Working was extremely hard, given I'm a massage therapist. I wasn't able to use my full strength and my hands would go numb while I was massaging a lot.
Since chiropractic care at Innate, my sciatic pain is completely gone! I've also gotten a lot of strength back and decreased pain.
Honestly, the whole experience has been amazing. The office is so clean and family oriented, the team members have been nothing but wonderful to me,just like family. Dr. Rick is incredibly knowledgeable, friendly, caring, and beyond respectful.
-Rachel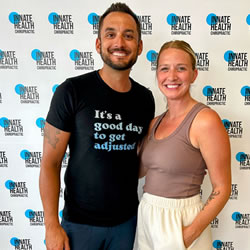 When I started care at Innate I was experiencing headaches on a regular basis, lower back pain when standing for any length of time and neck pain from working on a computer every day. The headaches at times were awful, lasting 2-3 days at a time. Headaches made it hard to concentrate, made me moody and irritable, as I just felt awful during them. Lower back pain made it hard to stand and watch my girls play sports and I felt that any sudden movements would almost jar my body.
I have had little to no headaches since starting chiropractic care. It has been amazing. My lower back and neck pain has decreased significantly and I feel like I can keep up with the rest of my family and I am able to be as active as I like with little discomfort. I feel more centered and I feel like I have more energy. I feel more rested as my body feels more aligned and "happy". I feel more productive at work and that I am able to concentrate so much better.
My experience at Innate has been wonderful. Everyone in the office is so nice and helpful. I appreciate the smiles and hellos as we walk in the door and the genuine care they provide to every person who walks through the door.
-Tiffany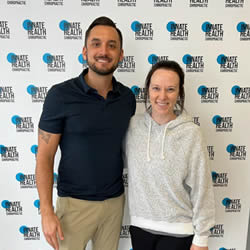 I came to Innate with super bad shoulder and back pain, kind of like there was a giant knot in my shoulder that was making my arm and fingers numb. I was super uncomfortable and sometimes grouchy. I also had pretty low energy.
Since being under chiropractic care at Innate, I have noticed the biggest change in my fine motor movements. I didn't even realize how much numbness/pain I had before when I was doing things like tying my duvet cover to the comforter. When I had my first adjustment, I went home and changed my sheets and that is when I recognized how uncomfortable I had been before. It was like an instant difference and it has lasted!
I love the family atmosphere of this office! It's super easy going and laid back and everyone is so helpful!
-Jillian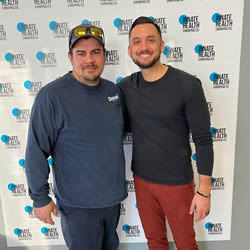 I came to Innate with constant lower back pain and neck pain after driving for long periods of time. The symptoms just became part of everyday life and made things more challenging to get accomplished. It was a challenge to hold my son and get up and down from the floor when playing with him.
The wonders Dr. Nick did for me is absolutely amazing! I can do all daily activities with out being in pain or siting down at night in pain before bed. As a 30 year old, the pain I was experiencing in my neck & back was doable, but uncomfortable. Once my son was born, I figured out how important it is to hold him when needed and to be able to get up and down from the floor to play with him.
The Innate staff is amazing and friendly, they work around your schedule and make everything possible.
-D.H.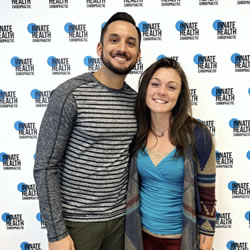 I had limited mobility and flexibility due to lower back pain. Every time I stood up after sitting I would experience pain, I was never comfortable. Since I have a job where I sit all day, I was constantly in pain. My mood was discouraged, my energy was low and it was getting in the way of me being able to lift weights and run. Even though it took longer than expected, I did have the results I had hoped for, which is being free from back pain, and increased mobility and I'm back to running and weightlifting! My mood and energy are back! The flexibility of Innate's ability to get me in around my work schedule made it easier to for me to make it a priority. They adjusted their approaches after receiving my feedback to help me have better results. The environment is welcoming, positive and peaceful.
-Kristen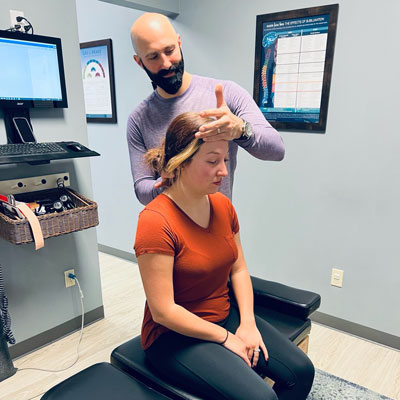 I came to Innate Health Chiropractic due to infertility and soreness in my back and shoulders. When standing and sitting at work, I would feel a sharp, sore feeling in those areas that would cause discomfort. These symptoms caused a lot of discomfort at work and would cause my work to become slower and less efficient. It made going to work something that I would not look forward to.
Chiropractic care at Innate has resolved these issues and has allowed more mobility and flexibility at work and has allowed my work days to be much more enjoyable.
Innate Health Chiropractic has very informative and caring staff and doctors that care about your health. The office is very welcoming, and they truly care about getting your issues resolved.
-Ashtyn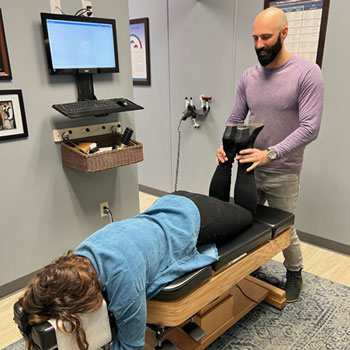 I came to Innate because I was having migraines, frequent headaches, and constant neck pain. I was always hurting whether it was a headache or muscle pain. I had been taking Excedrin more days than not for headaches and getting regularly massaged for my neck pain with little relief.Since being under chiropractic care at Innate, I now rarely have to take medicine for headaches and my neck pain has significantly improved. In 25 years I had never seen a chiropractor. I had seen physical therapists, doctors, massage therapists, etc. and never found a solution that worked for my pain and headaches. After coming to Innate and working with Dr. Rick, it was almost immediate the results I could feel. From the first visit to routine care, the Innate Team makes an effort to make you feel like part of the crew and that they are truly there to help you achieve the health results to live a better quality life.
-Molly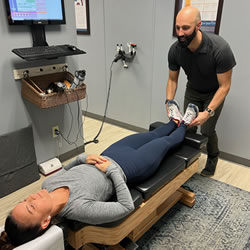 I came to Innate with chronic lower back pain, numbness in my legs when doing certain bends/movements, and constant knots in my shoulders and neck. In the mornings, it would be pretty severe waking up with extreme neck, shoulders and lower back aches, requiring a lot of stretching and massaging. Even regular deep tissue massaging, cupping, and blading only mildly relieved the pain and generally returned within a few days to the same levels. It felt like it was steadily getting worse and continued to get more frustrating.
Since being under chiropractic care at Innate, my lower back pain is nearly non-existent after several years of steady/chronic pain. The numbness in my legs with the various movements seems to be nearly gone and the "permanent" knots in my upper shoulders have finally begun to release and seem to continue to lessen with each adjustment. It also seems to help some with my posture.
I absolutely love the vibe within the office, it doesn't feel like a typical sterile doctor's office. It's very laid-back, comfortable and inviting, the staff is extremely friendly and sweet, and Dr. Rick has been beyond helpful and knowledgeable with any of my questions and directly addresses my issues. I am beyond grateful and excited to see the continued progress after such a long time.
-Lisa A.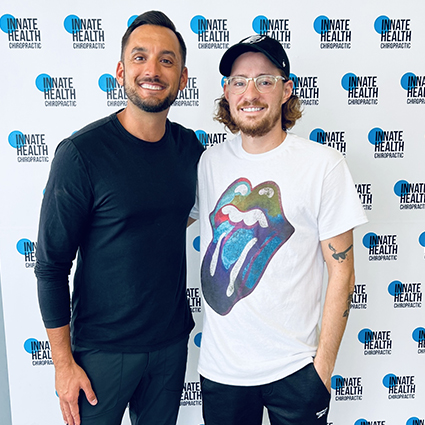 I came to Innate Health Chiropractic with lots of lower back pain and trouble with day-to-day activities and work. At it's worst, I could barely walk. I had very low energy levels and sometimes was unable to work because of pain.Since being under chiropractic care, my results have been amazing! I have very little pain (if any!) The office is clean and organized and everyone is very friendly and extremely helpful/knowledgeable. I would recommend Innate Health Chiropractic to anyone."
-Trevor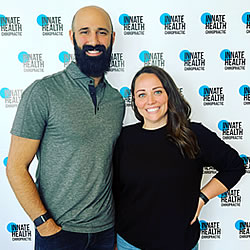 I came to Innate with reoccurring lower back pain. It seemed to come back every few months and last about 6 weeks at a time. At its worst, it was a constant throbbing pain. When I was feeling good, I felt like I always had to be careful not to cause the pain to come back. When it was hurting, I didn't want to work out or even walk a lot. It was also difficult to get a good night's sleep.
Since being under chiropractic care at Innate, my pain has gone away and my back feels stronger. I don't worry about the pain coming back like I used to. This has allowed me to live a more active lifestyle.
Everyone at the office seems very friendly and genuine. I look forward to my appointments because because the adjustments make me feel better, but also because it's so fun to catch up with the team members!
-Katie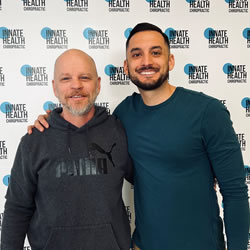 I came to Innate due to an injury. I was in more pain and discomfort than I had experienced in my lifetime. Never having a serious injury as such, it brought tears to my eyes whenever I coughed or sneezed. After 5 weeks of care at Innate, I am completely pain and symptoms free! The front desk girls are ALWAYS warm and friendly when I'm in the office. Dr. Nick knew just how to adjust so as not to irritate the injured area, while giving care that made my healing process awesome and efficient.
-Matt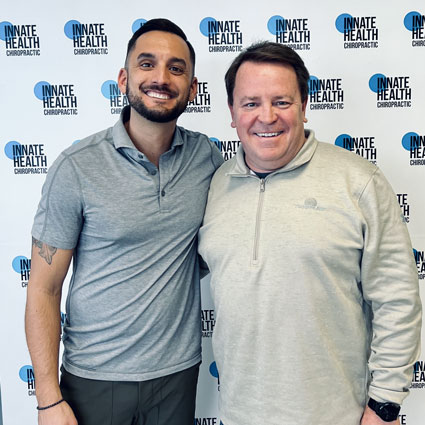 When I came to Innate I was suffering from severe sporadic sciatica nerve pain. The pain was interrupting my ability to walk in a normal fashion. Pain in any form is a mood changer, it's hard to be active when you are in pain.
Since being under chiropractic care at Innate, the pain has been reduced by 90%. I tend to be much more active when it doesn't hurt to stand up and walk.
The most impactful thing I've experienced is the extreme realization of the results I received. When you feel better, you forget how bad you once felt. My mind has been completely changed on the importance of chiropractic care, the environment in which you receive that care, and how chiropractic can make such a profound impact on your attitude, your outlook and your general health. It doesn't hurt that the staff is amazing. Thank you all for the excellent care you provide.
-Jon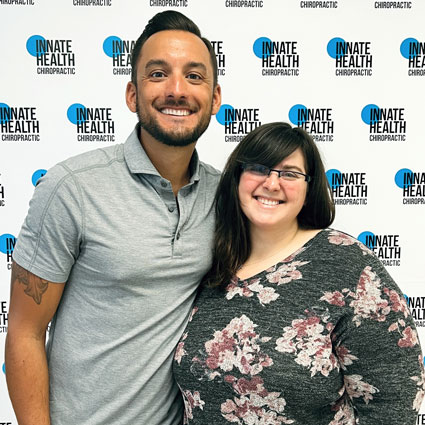 When I first came to Innate I had chronic neck pain that was always tight and stiff. There were many days I couldn't even turn my head to look around. I also had stabbing pain in my hips that made it difficult to sleep. This prevented me from getting up and moving, exercising, and even from sleeping well.
Since being under chiropractic care, I don't have a daily headache from the tension in my neck, I sleep much easier, and I have started to work out with walking more every day. I can be a more involved mom as well.
I just love the complete atmosphere of the office, the staff are so kind, warm and welcoming. Dr. Nick is always interested in the kids and what they are doing when they come and answers any questions they may have. I definitely recommend Innate Health to everyone!
-Ashley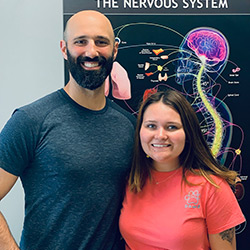 I came to Innate Health Chiropractic because of shoulder pain and lower back pain. The shoulder pain at its worst felt like needle pinpoints to the point I couldn't move my arm at all, with tingling all down my arm and into my hand. The back pain was bad to the point if I lay down flat I couldn't breathe. It made me feel very tired and I had a hard time doing everyday tasks and lifting things at work.
Since being under chiropractic care at Innate, I am now able to do a lot more with little to no pain. I can lift things at work and I sleep better at night as well.
My favorite part of Innate Health Chiropractic is that everyone listens to your concerns and is there to help you get back to feeling like yourself.
-Victoria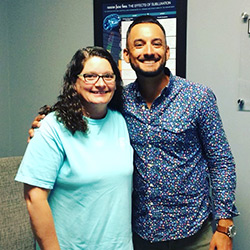 When I first came in I had severe sleep disorders, little range of motion in my shoulders, and abdominal bloating and pain with no rhyme or reason. The fatigue that followed all those symptoms was often debilitating. I felt tired all the time, stressed, anxious and socially insecure. Even eating a well-balanced plant-based meal could cause abdominal bloating and pain. Something had to change.
Dr. Nick and I are still working on resolving the abdominal issues but it is getting a lot better. I have had a complete turn in my sleep issues. I am no longer on any Rx's or supplements to better my sleep. I fall asleep and say asleep without waking to my mind racing. My range of motion in my shoulders is 100%.
The first time I walked in the office, I knew it was the place I needed to be. I immediately had a feeling of a "weight being lifted." I felt like I mattered. I was not just a "new patient." I was someone who needed help and EVERYONE at Innate was determined to do what it took to help me feel better physically, emotionally and spiritually.
-Ann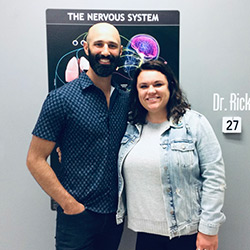 When I first visited Innate, I was experiencing severe neck pain; I had been in an accident that had caused this. I was having a hard time falling asleep, along with being in pain throughout the day. I was putting heat and ice on my neck almost daily, to relieve some of the pain. The pain was tolerable, but being in pain everyday was not helping my mental health.
I was very sad about my neck pain. I had lost hope to ever being pain-free again. It didn't affect my mood all the time, but there were several times where I would just cry because I wanted to be relieved of my neck pain. For the most part, I was in pain all day long, except for when I was sleeping. I would pray to God almost daily to help me with this pain that I was experiencing.
I have had amazing results! I have thanked God so many times for allowing me to find Innate and Dr. Rick. After my first adjustment, I regained hope for my future. I am now in a much better mood because of all the progress that we have made.
Before seeing Dr. Rick I had lost all hope. I felt that I was going to be in some sort of pain for the rest of my life. But after the first adjustment, I went to bed that night with no neck pain. I couldn't believe it! I cried tears of joy because I had regained all hope that I had previously lost. I am so grateful that I found Innate and have been blessed
to have Dr. Rick as a chiropractor. Everyone at Innate is so incredibly sweet and kind! From day one I have been treated like family. The staff is always in a great mood, always have smiles on their faces and are always so incredibly helpful! I am so grateful and blessed!
-Chelsea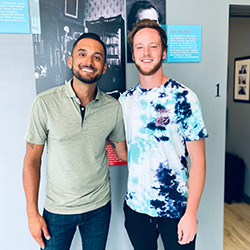 After taking a bad fall snowboarding, I had pretty much lost all mobility in my lower back. I couldn't touch my toes, it was so bad I almost had to ask for help putting pants and socks on. Walking was a struggle, sleeping was a pain and overall it just made every day a STRUGGLE.
I completely lost my ability to work out, just trying to pick something up off the floor at work brought me excruciating pain. It completely ruined my daily mood because every day I woke up knowing I had to work consisted of me knowing I was going to be in pain all day. It definitely affected my social life, considering I went to work and came straight home every night just to get off my feet and rest.
Since beginning chiropractic care at Innate, my results have been TREMENDOUS. After my first visit, I felt good enough to go to work without wincing in pain, I was by no means "fixed" but was for sure heading in the right direction. In the past 2 months, all the pain and stress I had in my back is completely gone. Dr. Nick brought the curve back in my neck and relieved all the stress in my neck that I've been dealing with since High School. Overall, my everyday mindset and mood have drastically improved due to how good I feel every time I leave this place.
I've attended one other chiropractic office in my life and was so happy when I was told I was "fixed" and didn't have to go anymore. After coming to Innate Health I don't ever want to leave, the experience I've had here has made me want to incorporate chiropractic into my everyday life because of how good it makes me feel. I've never met a more welcoming and wholesome staff in my life, they truly make it a joyful experience to be here. Their doctors never overwork you, they take you step by step through your entire healing journey, making it a rejuvenating and enjoyable experience that you'll never want to shake.
-Gavin
---
Innate Health Chiropractic Reviews | (419) 872-2255