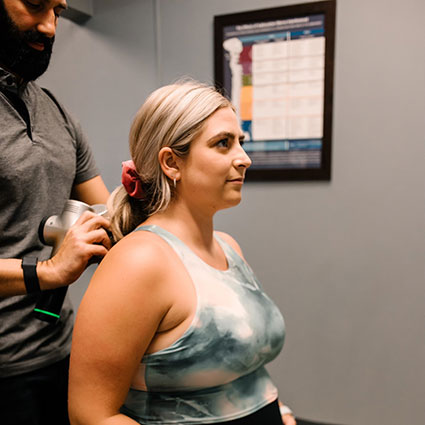 Innate Health Chiropractic Reviews – Prenatal
What Our Perrysburg Patients Say
At Innate Health Chiropractic we love when patients share with us their feedback and comments after chiropractic care. Please read our patient testimonials below to see what other people have achieved through their tailored treatment plans with us.
Share your stories too! Click here to send us your feedback so that we can help to spread the word about the benefits of natural Innate Health Chiropractic care.
For more information, or to schedule an appointment contact us today.
---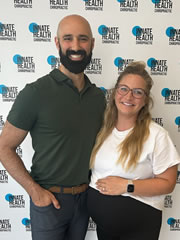 I had horrible neck pain, along with the normal aches and growing pains of mid-pregnancy. I could not look to my left, and it was honestly difficult to get dressed without pain most days. I work in an office, and this pain made it difficult to enjoy seeing my patients. I also have a three and half year old son, and my pain was inhibiting me from staying active and keeping up with him.
Since being under chiropractic care at Innate, my neck pain is essentially gone, and the aches and pains of pregnancy have totally been manageable. It has been a GAME CHANGER this pregnancy. I have been able to stay active through at least my 33rd week, and I have no doubt it's due to receiving chiropractic care. I'm just generally happier as well, and I'm sleeping like a baby.
Everyone in the office is so kind and thoughtful. They remember me and my son every time I come in, and it's such a breath of fresh air!! Chiroville is also amazing to have, as my Paw Patrol obsessed son can play with all the things while I get the care I need! All the love to Innate!!"
-Sara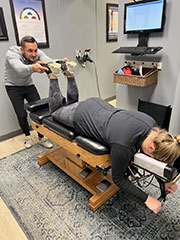 I have been going to Innate Health Chiropractic for 4 years now. I initially started getting chiropractic care when I was pregnant. I had a lot of aches and pains throughout my pregnancy and having adjustments on a regular basis made me feel so much better. I then continued after delivery and when I found out I was pregnant with my second baby, I continued with having adjustments regularly. It made all the difference in the world having chiropractic care throughout my pregnancy. Since having my second baby, I continue to see Dr. Rick and Dr. NIck a few times a month and it is the appointment I look forward to most!
Overall, I feel so much better! I don't have the everyday aches and pains I once had. I noticed the biggest difference when I was postpartum. Having two little ones at home requires a lot of bending and being hunched over and having adjustments each week really helped me with that.
The staff at Innate Health Chiropractic is the best there is. Every single person is so kind, friendly and helpful. Every time you walk through the door you are greeted by the sweetest ladies ever! I have never experienced a healthcare office that makes you feel as at home as they do at Innate Health Chiropractic. Truly the best!
-Allyson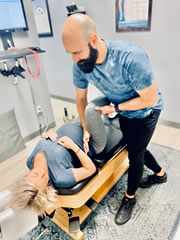 I was experiencing severe sciatica pain that made it extremely difficult to do anything, including walking. It felt like the lower half of my body was broken. It affected my everyday life in every way. I was on bed rest and could no longer work or do everyday tasks. It made me very scared during my second trimester of pregnancy. I could only pray it wouldn't last all 40 weeks.
A little over a month of chiropractic visits have helped me tremendously. It no longer hurts to participate in everyday life. I can walk again with no pain and that is everything for me.
I have been blown away by every single doctor and team member at Innate Health Chiropractic. They always go over and beyond to give outstanding service. Dr. Rick has been nothing but helpful with this difficult time and truly makes me feel like a new person every time I walk out of the office.
-Tiffany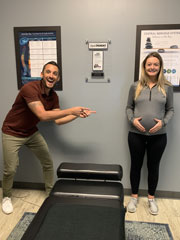 When I first came to Innate Health Chiropractic, I was feeling tension and stiffness in my neck, back and shoulders, which I was feeling more since being pregnant. I was exhausted and knew that I have always had a weak immune system. Every day, I would wake up sore and not feeling good. I was always complaining of back pain and exhaustion.
Beginning care at Innate Health Chiropractic has been the best thing I have done for my body and my pregnancy. I have more energy to live my everyday life. I do not wake up in pain anymore and overall I am healthier. The environment here is amazing! Every person who works here makes you feel welcome. This has made a tremendous impact on my pregnancy!
-Megan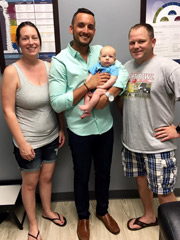 I was 36 weeks pregnant and my baby was breech. I wanted to avoid having an external cephalic version to turn him or a c-section. Someone suggested finding a chiropractor who specializes in the Webster Technique.
I found Innate Health Chiropractic and started care under Dr. Nick. After about 7 adjustments my baby was head down – the Webster Technique was a success! Dr. Nick and his team were very accommodating as I had a small window of opportunity to have my baby turn. Everyone was very friendly and welcoming!"
-Amanda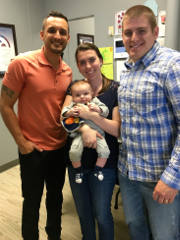 I found Innate Health Chiropractic online when I was pregnant. I was looking for a chiropractor that worked with pregnant women and when I saw that Dr. Nick was a Christian, I knew that I wanted to give the office a try! I really liked what they spoke of on their website about their beliefs.
My husband had old sport injuries that were always flaring up, especially when we would work out. He was having limited motion in his shoulders because of it. He also was having hip issues with wearing his heavy police belt. He had always ignored his pain problems and just checked it up to playing ball. It was limiting his ability to work out, was affecting his sleep, and was constantly causing him pain.
After our son was born, He was having difficulty eating and was also having problems with stomach pains.
Chiropractic care has been great for our family! I had a great natural delivery and I'm feeling healthy. My husband has motion back in his shoulders again and is back to working out and feeling much better. Our son is growing like crazy and now eats like a champ! I love that the three of us get to now go together and make it a family affair!
Dr. Nick, Grace, and Jessie are such a warm and welcoming staff and team to be served by. They remember small tidbits about your life to make you feel like an integral part of the office and make you instantly feel comfortable. Dr. Nick is helping our little family to feel well and be in top running condition. We are new to the area and our visits to Dr. Nick and the team were a big part of making this area feel like home. We always go in happy, and always leave even happier and feeling great. I would recommend Innate Health Chiropractic to anyone who wants a life change for the better!
-Abby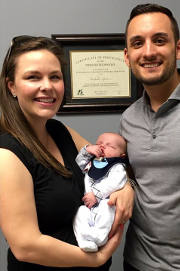 I had an uncomplicated pregnancy with my third child up until 37 weeks, when a routine ultrasound showed my baby had flipped transverse. I had one week to let him turn or they would take him via c-section. I went into panic mode trying inversion techniques and looking for a chiropractor who was certified in the Webster Technique. I called Dr. Nick's office and was greeted by a friendly voice, who instantly put me at ease. They got me in that day to meet Dr. Nick and begin the process. That night, after my first adjustment, I felt a lot of movement and pressure. He had flipped! I continued with care and at 41 weeks had my son naturally, with no complications!
-Caitlin
---
Innate Health Chiropractic PrenatalReviews | (419) 872-2255