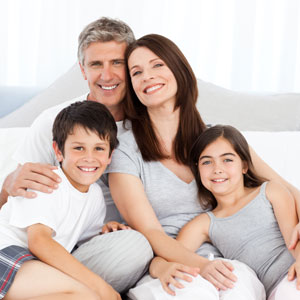 Innate Health Chiropractic Reviews – Adults
What Our Perrysburg Patients Say
At Innate Health Chiropractic we love when patients share with us their feedback and comments after chiropractic care. Please read our patient testimonials below to see what other people have achieved through their tailored treatment plans with us.
Share your stories too! Click here to send us your feedback so that we can help to spread the word about the benefits of natural Innate Health Chiropractic care.
For more information, or to schedule an appointment contact us today.
---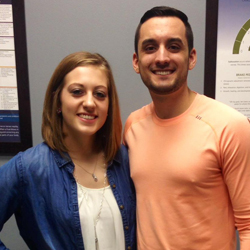 I came to Innate Health Chiropractic for a pain behind my shoulder blade and later told Dr. Nick that I had a tingling, burning sensation in my legs whenever I would do more than walking. This sensation in my legs started 2 ½ years ago and my back pain began this past fall. I could not move, exercise, practice, play, train, lift, walk up stairs – basically nothing that I did everyday of my life before the pain. I had various tests done, tried multiple vitamins and supplements, and therapies, but was still in pain.
A friend referred me to Innate Health Chiropractic, and since beginning care under Dr. Nick, my leg pain is COMPLETELY GONE! I literally have been given my life back. I can do whatever I want again without pain!
Read More of Mackenzie's Story
The first time I walked into the office, I was instantly impressed. There was Christian music playing, Grace knew my name when I walked in, and I was welcomed warmly. I started coming frequently and loved watching the documentaries and seminars playing in the warm up area. It arose so many questions in my mind about my future, and Dr. Nick was open to them and gave me so many answers that have helped me with nutrition, and Jessie was always a smiling face for me to walk into. The complete atmosphere and ideals of Chiropractic have made me totally flip my future plans around. I am now planning to go to Chiropractic school to follow Dr. Nick's footsteps in changing people's lives! I am so blessed to have found Dr. Nick and Innate Health in general. They have truly given me my life back and saved it in other ways. I would recommend absolutely anyone to Innate Health because I have no doubt that they will have as great of an experience as I!
-Mackenzie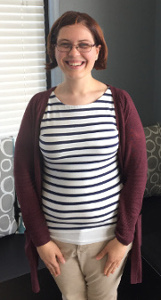 I have endometriosis, which began during grad school in 2014. The pain was at its worst before I was diagnosed. There are pockets of pain and pressure "ouch balloons" that pop up occasionally. I had such bad nausea that I hadn't eaten a full meal in almost a year. I couldn't move, bend, or do anything without feeling like I was being cut in half. My life consisted of intense pain every day with marginal relief when I laid down. My body would not respond to normal pain medications, which actually worsened the pain. I saw six doctors, tried three or four medical procedures, and seven different medications without success. One day, my church mentor referred me to Dr. Nick. After my first adjustment, I gained my appetite back! I can now move more freely and have a social life again! My energy and stamina are up, and I can keep up with my students. My pain is now manageable – a level 0-3 instead of previously being a level 5-7. The "ouch balloons" are at bay! Innate Health Chiropractic feels like coming home. Dr. Nick is so incredibly caring and wise. He thoroughly explains what he is doing, what he is not doing, and why. The entire staff genuinely cares about my health and well-being. I would be in such a rough place without the amazing care of Dr. Nick and his staff. Chiropractic is for EVERYONE!
-Jennie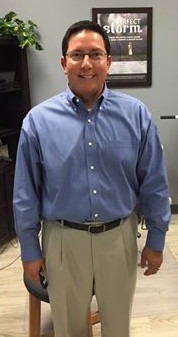 My wife and several neighbors suggested that I come to see Dr. Nick at Innate Health Chiropractic, but I was skeptical of chiropractic. I wasn't sleeping well, had lower back pain, had just been diagnosed with a dermatitis I had never had before, and have a high stress executive level job. All in all, I was a mess and in need of some relief. I went to the dermatologist who prescribed topical steroids and a prescription shampoo. We purchased a sleep number bed in the hopes that my back pain would resolve. I also changed my diet to lose weight, hoping this would help my overall health, sleep, and lower stress. Given the high energy required for my job I needed better sleep, couldn't sit for long periods, and was embarrassed by my new dermatitis. This all made me unhappy, moody, and overall worried about my health and whether I could sustain the job pace. Over the course of three months under the care of Dr. Nick, my sleep has improved (7 hours per night!), my dermatitis has resolved (weaned the medication over several weeks and with chiropractic it was gone), stress is more manageable, and my lower back pain is gone! Innate Health Chiropractic is bright, cheerful, and has a nice recovery feel to it. The staff are always courteous, friendly, and acknowledge you by name (they never forget or seem to have to ask twice). Dr. Nick makes you feel comfortable and takes the time necessary to listen to your individual needs when enacting the care plan. He adjusts his clinical focus to the patients need and even provided me with empirical information backing up his chiropractic claims!
-Ed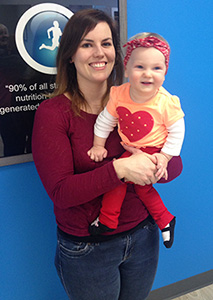 When I first met Dr. Nick & Ashley, they seemed like wonderful people, but I was a chiropractic skeptic. I'm active, eat well, and take care of my body, so thought I'd never need a chiropractor and "didn't want to have to keep going". However, I had lingering lower back/left flank pain, so after a couple trips to my doctor, Flexiril prescriptions, advice to go to PT, extra core exercises, and nothing working, I felt like I needed to do something different. The trigger was when I couldn't even roll over in bed without waking up from pain, let alone do my normal workouts! So I took the plunge and called Innate Health.
Turns out, I simply had never been educated about the positives of chiropractic. And especially wasn't aware of the different approach that Dr. Nick takes with his patients. After just one consultation, I realized that while Dr. Nick helps treat the symptoms, he's really trying to get to the root cause of the problem. My biggest issue that was obvious from the x-rays was that my lower spine had started to curve to the left, and the scans showed major stress in my neck and lower back, too.
At my first adjustment, Dr. Nick adjusted my C5 (upper spine) — and immediately, I felt a release in my lower back. If one adjustment could provide relief like that, I couldn't wait to see where my care plan took me. I've been seeing Dr. Nick since December 2014 and in those 2.5 months, I've seen only good things! My lower back has much relief, but other things that I didn't expect are happening too — no sinus infections (I usually get 2-3/year), my thyroid kicking into gear (I lost 4 lbs in the first 2 weeks of treatment, with no changes to diet or exercise)!
When I started seeing results, I decided it might be worthwhile to bring in my daughter. Ava is 13 months and was still struggling to sleep through the night. (That's a long time and one tired mama!) Plus she was having some digestive issues; After just one adjustment, Ava's sleep improved (and is now typically sleeping 10 hours a night) and her digestive issues have basically cleared up! Overall, our care at Innate Health Chiropractic has been phenomenal and I recommend them to all my friends & family. (My mom & sis go for their consultations this week — woo hoo!) Thank you for helping us work towards our "innate health!
-Kirsta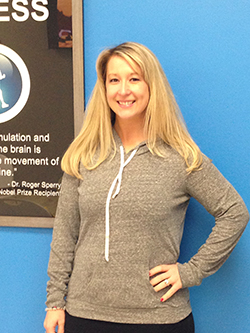 I have had lower back pain for 8 years. I couldn't sleep, stand, sit or lay down; it always hurt. Dr. Nick has helped me not only with the pain, but the tightness as well. I also started having neck pain which has gone away! Doctors told me it was just something I would have to "live with". Doctors only recommended steroid shots and pain medications which only gave temporary relief.
Having 2 you children and a fitness business, I couldn't continue having this pain and re-injuring/re-aggravating my lower back. I had to take off work for doctors appointments and due to the unbearable pain in both my back and neck. I would have difficulties picking up my children, lifting them into their cribs and car seats. I hit a breaking point and knew I needed help, but that all the doctors would do was treat the symptoms not the cause. I knew I needed to get to the root of the problem. I was referred to Innate Health Chiropractic by my friend Kirsta. Chiropractic has changed my life for the better! I feel healthier from the inside out and I have no pain!
I can lift my children without worrying about the pain. I've also noticed improved digestion, better posture and improved sleep! I have and will continue to recommend Dr. Nick to my friends and family. I feel that the mission and philosophy of Innate Health completely aligns with my beliefs of healing the body from the inside out. Not only does Dr. Nick focus on the spine, but overall health and wellness including fitness, family & faith. His approach is to get to the root of the problem, to treat the cause not just manage the symptoms!
-Kami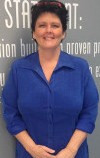 When I started care at Innate Health Chiropractic I had a severe pain running from my left hip down to my knee. It began in early summer at the cause of the pain is still a mystery to me. When the pain was at it's worst I couldn't (and wouldn't) walk or if I did I would have to drag my leg. I tried pain killers but nothing got to the cause of my problem. This pain affected every area of my life! I heard about Innate Health Chiropractic from my son and daughter in law and they suggested that I give Dr. Nick a try. I have had amazing results! I wake up not thinking about the pain because there is none! I am not limping anymore and I am 99% back to normal. The office and Dr. Nick are great, the atmosphere is very friendly!
-Lori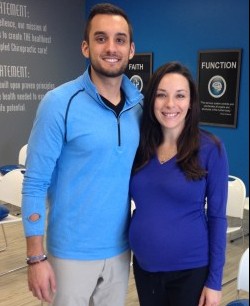 When I began care at Innate Health Chiropractic, I had bad sciatic pain and low back pain due to my 2nd pregnancy. It started in my mid second trimester and I had terrible sharp shooting pains down my right backside and down my hamstring. It was hard to play with my toddler and complete tasks through the day. I tried walking and stretching to relieve the pain, but resting with my legs up was the only thing that seemed to work.
After I was active again, the pain would always return. The pain was making it difficult to keep up with my toddler and do my everyday tasks at home as a stay at home mom. Since starting care at Innate Health Chiropractic, my sleep has improved, I have no more sciatic pain and my low back pain has decreased significantly! Now late in my 3rd trimester I can still keep up (pain free) with my toddler and get things done around the house with time to spare. I am able to now lightly exercise as well.
Getting adjusted is more than having your back feel better – it's overall health. Dr. Nick has made me feel comfortable and at ease about making sure my spine is aligned so that my body can operate at it's maximum potential! The office and team are friendly, professional and extremely informative! I would recommend people to be open to chiropractic care as a way to maximize and heal their bodies!
-Jessica Z.
---
Innate Health Chiropractic Reviews | (419) 872-2255